Tjalling Goedemoed - In memoriam
This page is here for those who have known Tjalling Goedemoed personally, and those who may know him through his work. It is something this website cannot do without, as lidraughts would not have been here without him. To me personally, the beauty that lies hidden in the game of draughts would have remained unknown, without his inspiration and without having known him as a friend.
A true passion spreads freely and quickly, and a true passion Tjalling had! We hope lidraughts can play its part too, tiny as it may be, in letting the spark of draughts grow further in the world. A spark that Tjalling has lit for me and for so many others.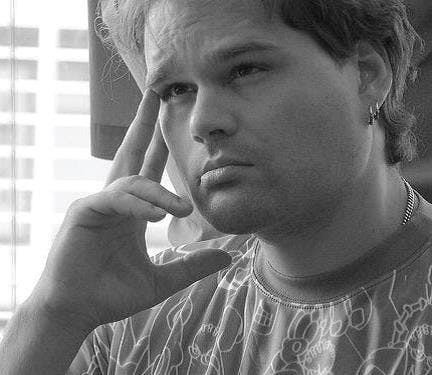 2-3-1971 | 6-5-2016
Everyone who has known and loved Tjalling, will remember his incredible and beautifully strange sense of humor; his quick and highly intelligent mind; his sometimes difficult personality, for others and for himself; his monologues on barbapapism; his unprejudiced and tireless explorations of the cosmos, going in the same breath from Krishna and the Bhagavad Gita, to the delayed choice quantum eraser experiment.
Of this sparkling and multi-faceted personality, one thing was obvious to everyone: the central place that draughts had in his life. While he was always active as a player, in both competitions and tournaments, his love for draughts extended to all other aspects of the game. He was a (youth) teacher, coach and trainer, a writer and columnist, a problem composer, and a tireless promoter of the game. He was fascinated by the tactical complexity of frisian draughts, and experimented with draughts variants of his own, most notably killer draughts.
Tjalling wrote many columns and articles about draughts, mostly in Dutch. Internationally he is probably best known for his magnum opus A course in draughts. This three part course, aimed at the more advanced player, has found recognition all over the world, and has been translated in many languages by enthusiasts. This book is freely available here in 11 languages, along with some of his other work. We plan to make A course in draughts available as interactive lessons on lidraughts as well.
Anyone who loves draughts is also highly encouraged to have a look at the youtube channel Tjalling left behind. You will find many great video's about all aspects of draughts, including game analysis, problems and compositions, lessons, frisian draughts, killer draughts, etc.
Below is a beautiful video that demonstrates some of Tjalling's compositions:
Het ga je goed Tjalling, we ontmoeten elkaar weer in de kosmische bioscoop
Requiescat in pace